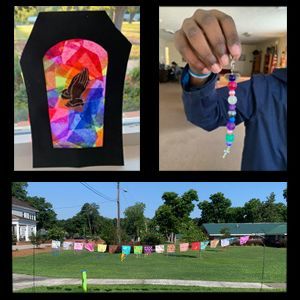 One of my areas of responsibility at Boys and Girls Homes is Coordinator of Spiritual Formation for the residents. This involves providing a weekly Bible Study and Craft activity that compliments the theme that we are focusing on that week. Over the past several months we have looked at what scripture teaches us about love, the Holy Spirit, prayer, finding balance in our lives, and dealing with fear and anxiety. This past week we looked at the topic of freedom to coincide with the 4th of July celebration.
Providing a craft to go along with the Bible study is not just about finding a way for the kids to have fun. I recently read an online article on a website called MiNDFOOD which explains many benefits of arts and crafts.
"A study in the American Journal of Public Health titled 'The Connection Between Art, Healing and Public Health' found that those who engaged in art experienced "reductions in stress and anxiety" and "increases in positive emotions". When you become immersed in creating art, your mind is able to break away from pressing or distracting thoughts and really focus on the task at hand. This creates a meditative state where concerns are momentarily forgotten, in doing so lowering stress levels and creating mental clarity."
The article goes on to say that other benefits of arts and crafts include enhancing self-esteem, increasing brain productivity, increasing empathy and even lessening the effects of health conditions.
In my time with the residents I have seen a variety of benefits from the craft projects we have done. When the children finish their creative work, they are proud of what they have accomplished, generating a sense of confidence. By providing crafts alongside our discussion about important matters of faith, they have been able to associate what they learned from scripture with the craft they made. When we review what we learned, the craft item becomes a way to remember the lesson. I have also witnessed many occasions where the young people help each other when they are struggling with a task, promoting a sense of both empathy and community.
One of my favorite lesson series was on the topic of prayer. One week we made stained glass windows with praying hands in the middle; another week we made prayer beads. Each session was designed to help us learn to pray and communicate with God. Our final session in the series was to make individual prayer flags, representing prayers for our community and world. They were strung together and displayed on Flemington Drive. Each day when I saw the prayer flags blowing in the wind, I was once again reminded that the kids of Boys and Girls homes are growing, learning and finding their place in the community. It is my prayer that their time on campus helps them live into the amazing potential that God has planted in them.
Jennie Weeks is the Spiritual Formations Coordinator, Human Rights Specialist and Volunteer at Boys & Girls Homes of NC.