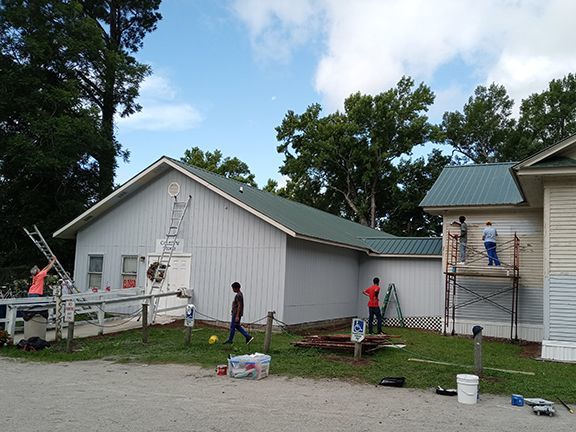 The Boys and Girls Homes of North Carolina Country Store received a fresh coat of paint during the last week of June thanks to the Painting a Brighter Future grant received from the True Value Foundation.
"We truly believe that in the philosophy that beauty is a silent teacher, compassionate healer and giver of hope," said BGHNC President/CEO Ricky Creech. "We want all of our buildings and facilities to provide a welcoming environment for our youth and families. Having the grant support available to provide the 20 gallons of paint and equipment to complete this project is significant."
Mission Serve volunteers completed the project as part of their ongoing work in Columbus County. The group was hosted on the BGHNC campus.
"This project was a wonderful example of the community support BGHNC receives," Creech said. "It was a grant funded project completed by volunteers to better the lives of our youth and families."
The Country Store is a retail outlet that sells gently-used items to support the BGHNC programs of care.
"This paint job has provided a new feeling for the store," said Country Store Supervisor Pam Lee. "The color is so welcoming and it is such a change that it attracts attention. That brings customers in, which provides more support for the children."
Additionally, the children and youth served by BGHNC often spend time in the store, shopping or volunteering.
"We've gotten so many comments about how good it looks," said Lee. "The youth are really excited by how different it looks and can hardly believe it is all because of a new paint job."
This is exactly what the grant is meant to do according to the Painting A Brighter Future Grant webpage, which shares "something as simple as a new coat of paint can energize a dreary space and motivate youth. Research confirms that new paint and the cleanliness of walls can have an impact on youth attitudes and academic performance."
In partnership with True Value retailers, True Value Foundation has provided more than 1,800 schools and youth-focused nonprofits across the country with paint since the program's inception in 2009, covering more than 21 million square feet.
About True Value Foundation
True Value Foundation is focusing its primary efforts on underserved youth and improving the lives of children, with an emphasis on education and community vitality. Funds raised and donated products and services support the Boys & Girls Clubs of America, Painting a Brighter Future and Habitat for Humanity. Through year-round volunteerism, True Value Company employees give back to the community with mentorship and service to the Boys & Girls Clubs and United Way agencies.
About Boys and Girls Homes of North Carolina
Boys and Girls Homes of North Carolina, Inc., has been helping children since 1954. Since then, more than 7,500 children have benefitted from the services of the not-for-profit, 501(c)3 agency. Its mission is to provide a comprehensive array of services for children and youth who have been removed from their homes due to abuse, neglect or other family dysfunction. BGHNC offers adoption, family and therapeutic foster care, free children's therapy, as well as residential care on the campus at Lake Waccamaw. The campus features a SACS-accredited school with a middle and high school curriculum, vocational education, recreation facilities, farm, chapel and cottage life. As many as 320 children are cared for through the residential, community-based services, and school program provided by BGHNC at any given time. BGHNC operates its program, services and activities in compliance with federal nondiscrimination laws. BGHNC is nationally accredited by the Council on Accreditation.