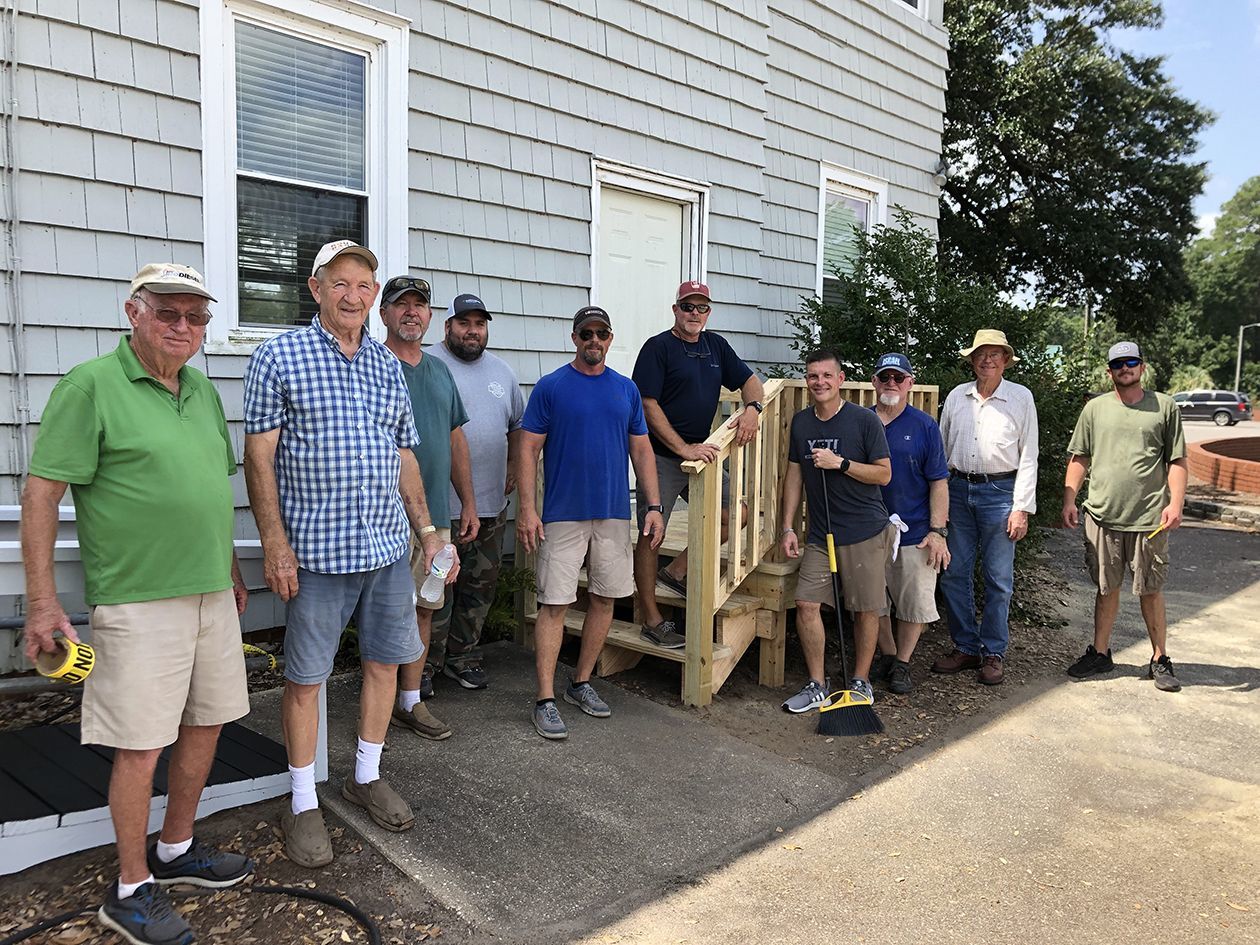 On Saturday, Aug. 28, a group of volunteers from Piney Forest Baptist Church came to the Boys and Girls Homes of North Carolina campus to repair a handicap ramp and rebuild some stairs outside Flemington Hall.
The project was the result of a visit by BGHNC Volunteer Mobilization Coordinator Lisa Brown to speak with the church.
"Lisa Brown came to speak with us about Boys and Girls Homes," said Pastor Willard McPherson. "She shared the projects that need to be done and we knew what our capability was."
The initial plan was for the work to include several of the campus youth, but with COVID numbers increasing in the community the plan was changed so that the volunteers were able to complete the work with no contact with the youth.
"We had a great time," McPherson said. "It is always a great time of fellowship. We were a little disappointed that we couldn't visit with the youth, but we understand that the COVID protocols are in place to keep everyone safe."
The volunteers did get to visit with BGHNC President/CEO Ricky Creech, who shared his appreciation for the group.
"They did wonderful work on campus," said Creech. "The power of volunteerism shows through their work and love for our children. It was an honor meeting each of them."
Brown agrees, "They were truly a blessing to work with. They are so genuine and committed to being a force for good in the world."
Both sides are looking forward to a continued volunteer relationship between the organizations.
"Our hope is that it was truly a win-win for both sides," said McPherson. "I appreciate the attitude of the current administration of opening the campus to the community. I encourage other churches and community organizations beyond the civic clubs that have long supported BGHNC to consider volunteer opportunities to support the work being done."
About Boys and Girls Homes of North Carolina
Boys and Girls Homes of North Carolina, Inc., has been helping children since 1954. Since then, more than 7,500 children have benefitted from the services of the not-for-profit, 501(c)3 agency. Its mission is to provide a comprehensive array of services for children and youth who have been removed from their homes due to abuse, neglect or other family dysfunction. BGHNC offers adoption, family and therapeutic foster care, free children's therapy, as well as residential care on the campus at Lake Waccamaw. The campus features a SACS-accredited school with a middle and high school curriculum, vocational education, recreation facilities, farm, chapel and cottage life. As many as 320 children are cared for through the residential, community-based services, and school program provided by BGHNC at any given time. BGHNC operates its program, services and activities in compliance with federal nondiscrimination laws. BGHNC is nationally accredited by the Council on Accreditation.