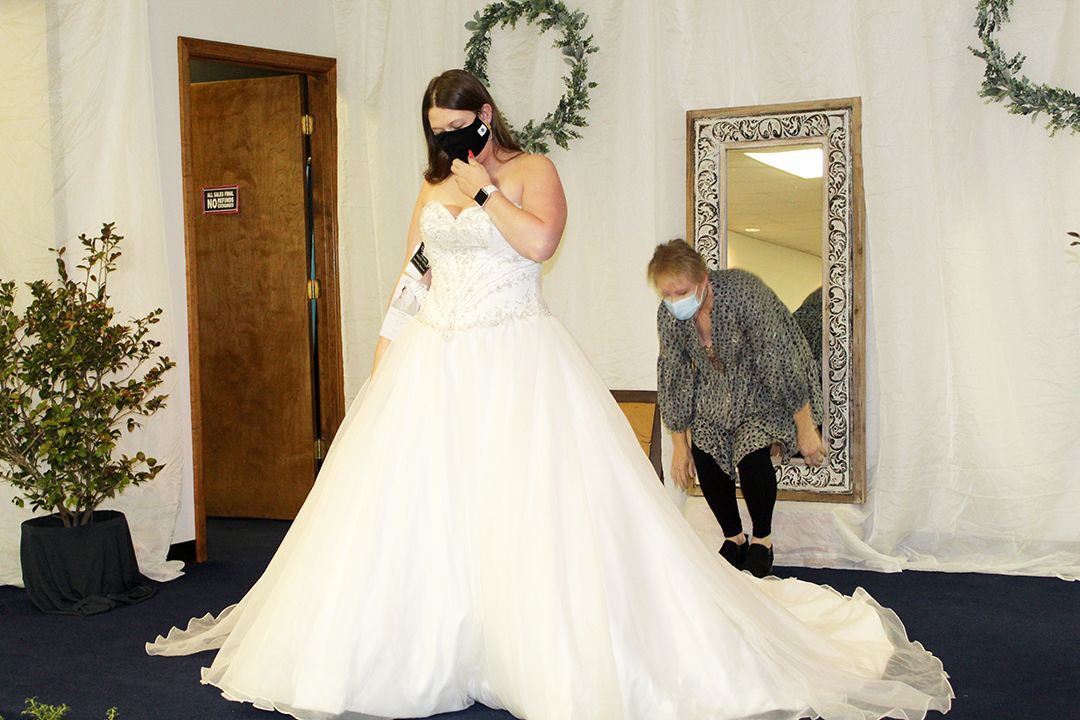 The Morton Conference Center on the Boys and Girls Homes Farm in Lake Waccamaw was transformed into a bridal boutique over the weekend of Feb. 12 and 13 for a bridal dress sale.
"We were excited to be able to bring this special event to the community," said BGHNC President/CEO Ricky Creech. "This is an example of the creative thinking of our community supporters in providing a donation that will benefit the community and the youth and families served by BGHNC."
Neal Turner of Sunshine Laundry and Dry Cleaner donated the dresses after his daughter Nikki Long closed Nikki Couture Bridal of Madison Street in Whiteville.
"Thank you to Nikki's Couture Bridals and Sunshine Cleaners for donating the gowns," said Volunteer Mobilization Coordinator Lisa Brown. "This would not have been possible without their generous donation."
Brown worked with Donna Creech and Jennie Weeks to prepare the space for a bridal boutique experience for the brides-to-be.
The boutique bridal dresses from designers like David Tutera and Maggie Sottero had sizes ranging from 2 to 24W. Bridesmaid dresses, flower girl dresses and even mother-of-the-bride dresses were also available for purchase during the special event. These designer gowns were priced between 65 percent and 75 percent of the original cost.
"When they saw that they were brand new dresses, there was even more excitement," Brown said of the shoppers. "It was a joy to watch them be able to get a designer gown and know that they're going to walk down the aisle with confidence and feel beautiful.
"We took their picture with a bouquet and sign - 'I found my dress.' We made it a fun activity for them and a special event like a normal salon."
The experience was also enjoyable for the sales team.
"It was a great weekend," said Donna Creech. "Seeing the happy brides when they said yes to the dress was amazing. And knowing this sale will help our kids is even better."
Brown agreed, "It was so much fun getting to meet everyone who came out to the sale. This wasn't something we normally offer. We hope that the community enjoyed it as much as we did. Best wishes to each of the brides that purchased their dresses from us."
While the boutique weekend is over, designer wedding dresses remain available for purchase at discount prices. A print catalog is available for review at the BGHNC Country Store during business hours. The Country Store is open Wednesday – Friday 8 a.m. – 3 p.m. and Saturday 8 a.m. – 12 p.m.
"If a bride-to-be finds a wedding dress she wants to try on, the store will give me a call and I can bring the dress over to be tried on," Brown said. "We will make it a full bridal salon experience to be included in the happy wedding memories."
BGHNC also has the opportunity to be part of the wedding day experience for couples with the availability of the Leamon Rogers Memorial Chapel which includes a fellowship hall space for receptions and a courtyard for outdoor events. For more information, contact Lisa Brown at 910-646-3083 or lisa.brown@bghnc.org.
About Boys and Girls Homes of North Carolina
Boys and Girls Homes of North Carolina, Inc., has been helping children since 1954. Since then, more than 7,500 children have benefitted from the services of the not-for-profit, 501(c)3 agency. Its mission is to provide a comprehensive array of services for children and youth who have been removed from their homes due to abuse, neglect or other family dysfunction. BGHNC offers adoption, family and therapeutic foster care, Success Coach services to prevent children from coming into foster care, and free children's therapy, as well as residential care on the campus at Lake Waccamaw. The campus features a SACS-accredited school with a middle and high school curriculum, vocational education, recreation facilities, farm, chapel and cottage life. As many as 320 children are cared for through the residential, community-based services, and school program provided by BGHNC at any given time. BGHNC operates its program, services and activities in compliance with federal nondiscrimination laws. BGHNC is nationally accredited by the Council on Accreditation.