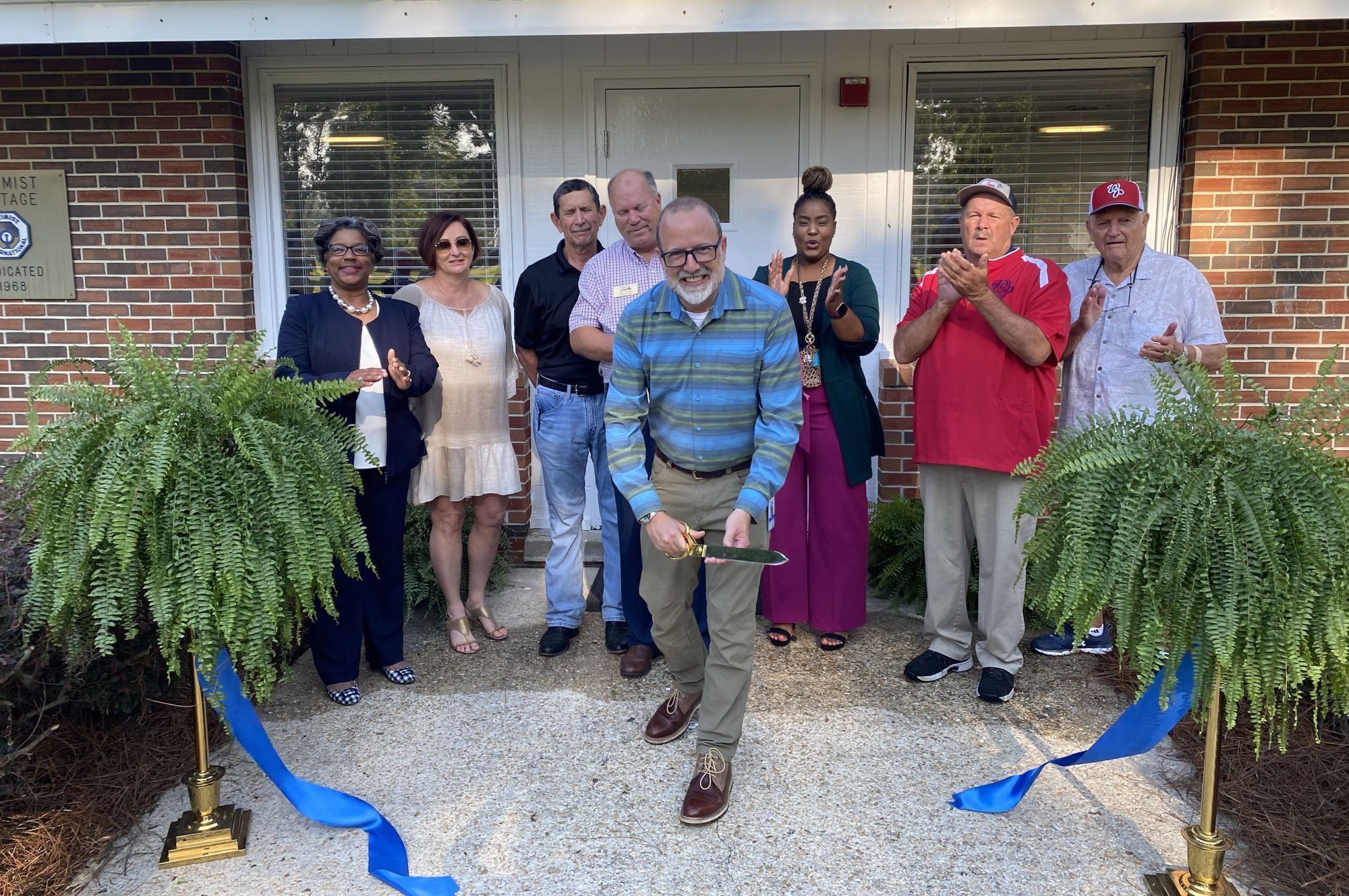 · Since it opened in 1968, the children living in Optimist Cottage have been supported by Optimist Clubs in North Carolina.
· More than 40 regional businesses, Optimist Clubs and individuals gave money, labor and materials to renovate the living room, dining room, library/TV room and kitchen counters in Optimist Cottage.
· The renovation was completed with more than $130,000 of donated labor and materials.
LAKE WACCAMAW (September 20, 2023) – Cutting that shiny blue satin ribbon in front of Optimist Cottage for its re-opening on Sept. 20 felt like a homecoming for Boys and Girls Homes President Marc Murphy. He lived in Optimist Cottage working with 19 middle school boys there as a Teaching Parent in the late 1990s.
"To see my old home get a complete rehab and look as beautiful as it does is really meaningful to me," he said to a crowd of regional business leaders, Columbus County officials and Optimist Club members. Optimist Clubs across North Carolina raised more than $60,000 in 1967 to complete the cottage by 1968 and have contributed to its maintenance since. Now the house has light mint walls, new gray flooring, foosball tables, new couches, new dinner table and a library of new books.
For one young Optimist resident, the best thing about the new Optimist Cottage is "the beds and the place is always clean."
Another boy who lives in the cottage said he likes "the spirit of laughter here." Of course, both boys said they love the game and library room too.
When Buck O'Shields, Tim Burleson and several other Winter Park Optimist Club members visited the cottage to bring presents and take its students to dinner near Christmas last year, they decided it was time to update the cottage.
"I realized I can do something to help," Burleson said. As Vice President at Kent Homes in Wilmington, Burleson asked his teams of contractors if they could donate their time to help him renovate the cottage. "I have nothing but admiration for what Boys and Girls Homes does. As soon as I explained that, it was an easy sell to get people to help." In November 2022, his wife, Tammy Burleson, passed away unexpectedly so Winter Park Optimists gave a large donation to the project in her name.
Her passing "made me understand that what I have in this world is not as important. What I need to give away is more important," Burleson added.
O'Shields' father was an original board member of Boys & Girls Homes, and he has understood the nonprofit's mission since he was boy. When the renovation of the TV room was complete, O'Shields brought a large donation of new middle grade books, unpacked the boxes and placed the books on the shelves himself.
"Tim Burleson said I want to re-do the Optimist Cottage and he wanted to do it in his wife's honor," O'Shields said. "We agreed that whatever he wanted to do we would help."
Burleson said that when he asked Custom Home Furniture Galleries about contributing to the project, he was astounded when they donated all of the living room and dining room furniture needed to complete the renovation. That was just one of many generous donation stories in the project.
Teaching Parent Matthew Busman currently lives in Optimist Cottage working with the children there.
"When you change a kid's environment, you change their mindset," he said. "If it looks nice, then they make an effort to keep it nice. It does make a difference in their comfort and sense of ownership now to keep it looking nice."
A complete list of the businesses and Optimist Clubs who contributed to the project are listed below.
Boys and Girls Homes of North Carolina
Headquartered in Lake Waccamaw, NC since 1954, Boys and Girls Homes of North Carolina has served more than 7,500 children as a not-for-profit, 501(c)3 agency. Its mission is to provide a comprehensive array of services for children and youth who have been removed from their homes due to abuse, neglect or other family challenges. BGHNC offers adoption, family and therapeutic foster care, Success Coach services to prevent children from coming into foster care, and free children's therapy, as well as residential care on the campus at Lake Waccamaw. The campus features a SACS-accredited charter school with a middle and high school curriculum, vocational education, recreation facilities, farm, equine therapy and a chapel. BGHNC is nationally accredited by the Council on Accreditation. To learn more, please visit https://boysandgirlshomes.org/
# # #
Attached photos are credited to Amanda Irwin.
Patrons of the Boys and Girls Homes Remodel & Building Fund
Kent Homes – framing and assorted labor and materials
Winter Park Optimist Club – Labor and financial donation
Colonial Materials – Drywall and accessories
84 Lumber – Interior trim and lumber
Ferguson Enterprises – Light fixtures and water cooler
Risley Padula Construction – Kitchen island table and interior trim labor
Shaw Floors – LVP flooring material
Rugworks – Flooring material and financial donation
Capitol City Flooring – Flooring labor
Big Rock Masonry – Power washing
Atlantic Appliance – Washer and Dryer
David Coleman Fine Homes – Financial donation
NC Custom Painting – Painting labor
Spectrum Paint – Painting material
Benjamin Moore – Painting material
Ashley Wescott Electrical – Electrical labor and fixtures/devises
Builders First Source – Interior trim materials
Costco – audio video components
Custom Home Furniture Galleries – furniture
Regional Services – HVAC components
Top Shelf Waste Systems – Dumpster
Bennett-Wilson Optimist Club – financial donation
Elm City Optimist Club -- financial donation
Laurinburg Optimist Club -- financial donation
Optimist Past Governors of NC -- financial donation
Providence Optimist Club -- financial donation
Wake Forest Optimist Club -- financial donation