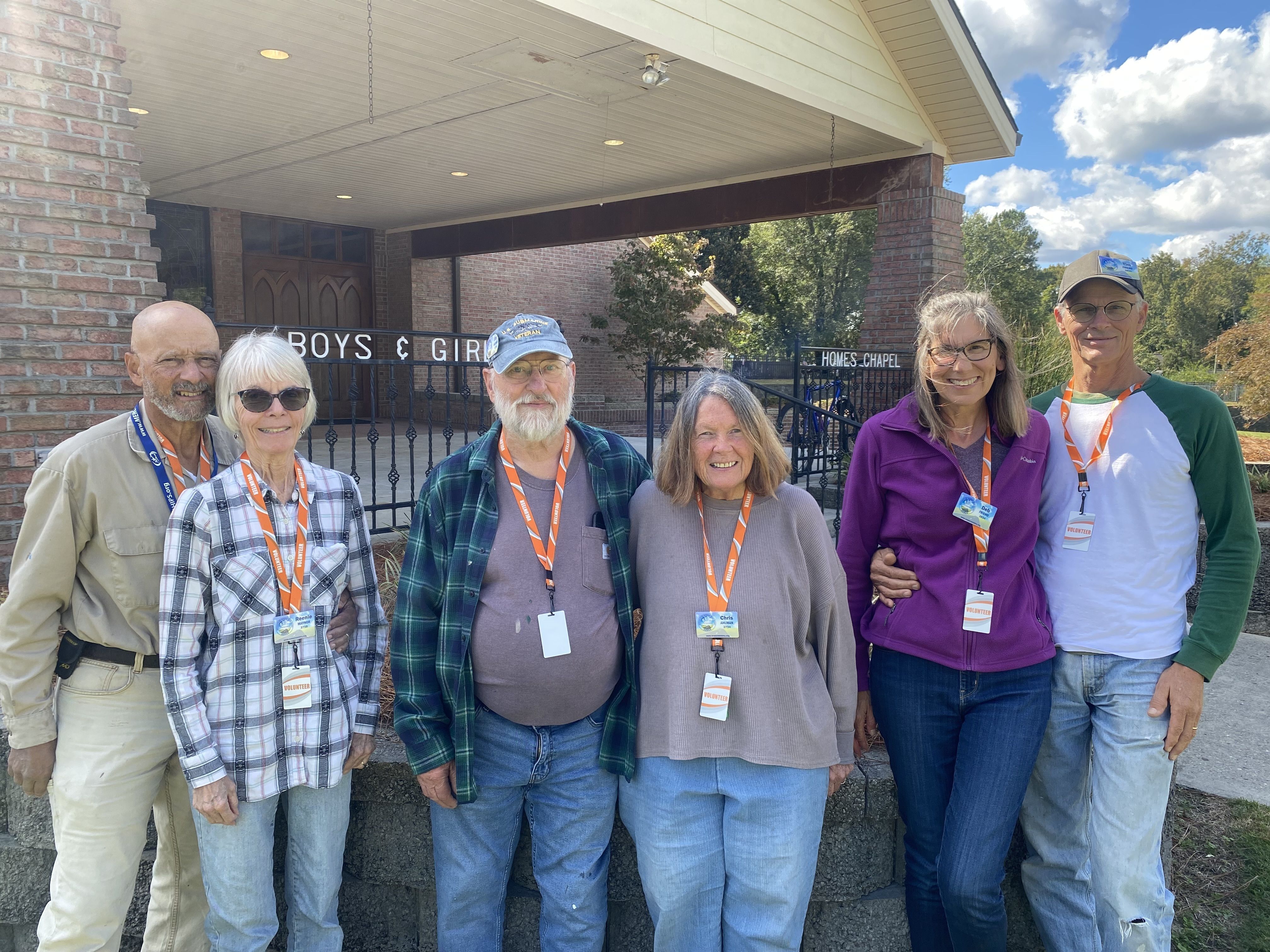 After raising 33 foster children, Chris and Jim Ahlman bought an RV and hit the road, traveling 13,000 miles around the country. At one of their stops, the couple, now in their 70s, met another RV-ing couple parked next door who were part of the SOWER Ministry or Servants on Wheels Ever Ready. The Texas-based nondenominational Christian ministry pairs Christian couples who own RVs with work projects at camps, conference centers, children's homes, schools, missionary retreat centers and recovery homes for adults. SOWERs commit to three weeks of work at each work site they choose in exchange for water, sewer and electric hook-ups for their RVs, plus trash disposal.
"We were traveling already so we thought this sounds right for us," Jim Ahlman said. "The SOWERs give us a purpose."
Now, the Ahlmans and two other couples – the Friends and the Maynors -- are working together to make improvements on the campus of Boys & Girls Homes. The couples are nearing the end of their first three weeks of work. Then the Ahlmans and the Maynors will stay and work one more month. During their fourth week at each site, the couples rest and explore the area. Couples come together to work from all over the country.
The SOWERs are diligent in their work and their faith, said Lee Luzader, BGHNC's Volunteer Coordinator.
"The first week, I had a whole long list of projects for them, and they knocked out two-thirds of the list that first week," he said. "They are amazing." The SOWERs have replaced exhaust fans, removed old cabinetry, repaired porches and staff housing, sandblasted vents in the cafeteria and painted.
Tim Friend said SOWERs come from all types of work histories. He's met teachers, engineers, pastors, air traffic controllers and truck drivers. Some are retired. Some are not.
"We just use the talents that people have," to get the work done at each site, Jim Ahlman added.
For Ron and Reenie Maynor, RV-ing and working seemed like the perfect retirement plan. They sign up for projects that are near their children and grandchildren across the country. Reenie also loves completing quilting projects at different work sites.
"We're getting the opportunity to serve, and these projects allow us to do that," he said. "I am not one to sit still, and I didn't want to retire and play golf. I love to fix things; build things, and I love to RV, so this meshed perfectly."
Chris Ahlman felt the same way.
"You know the Bible doesn't say anything in there about retirement," she added. "I am so alive now because I'm doing and working."
Part of the mission of the SOWERs is to spread the Christian gospel by sharing their own stories as they did recently, speaking with staff and children in the Chapel at Boys and Girls Homes.
"What I have found is we're an encouragement to the staff. We get to know the staff, pray with them and give them ideas," Ron Maynor added.
"We miss church when we're on the road so the SOWERs become our home church wherever we are," Reenie Maynor said. The couples have a prayer devotional meeting together each morning before work.
Though Tim and Deb Friend are newer to the SOWERs, they believe they've found their passion for Christian service.
"One word motivates us to do this, and that word is love," Tim said. "That's why we're here because God first loved us, and we want to spread that love to you and to wherever else we're going."
Boys and Girls Homes of North Carolina
Headquartered in Lake Waccamaw, NC since 1954, Boys and Girls Homes of North Carolina has served more than 7,500 children as a not-for-profit, 501(c)3 agency. Its mission is to provide a comprehensive array of services for children and youth who have been removed from their homes due to abuse, neglect or other family challenges. BGHNC offers adoption, family and therapeutic foster care, Success Coach services to prevent children from coming into foster care, and free children's therapy, as well as residential care on the campus at Lake Waccamaw. The campus features a SACS-accredited charter school with a middle and high school curriculum, vocational education, recreation facilities, farm, equine therapy and a chapel. BGHNC is nationally accredited by the Council on Accreditation. To learn more, please visit https://boysandgirlshomes.org/
The SOWER Ministry
The SOWER (Servants On Wheels Ever Ready) Ministry is a 40-year-old non-profit, non-denominational Christian couples RV work ministry that provides volunteer help to selected non-profit Christian ministries. These ministries include camps, conference centers, orphanages, schools, missionary retreat centers and training facilities, homes for abused children and recovery homes for adults. To learn more, please visit https://www.sowerministry.org/