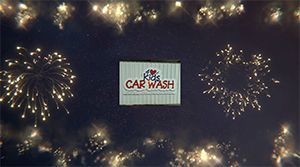 For several years the vision had been for the Boys and Girls Homes of NC carwash to be run and managed by the team of youth from BGHNC.  We were unable to find the right timing and leadership to make this vision a reality until December 2020.
Under the mentorship of an enterprising and dedicated staff member, a group of boys stepped-up to the challenge. This group of five, 13 to 15 year old boys, absorbed the training, laid out a long-range plan and began the process of "owning" the carwash. The plan called for them to "run" the carwash and split the net profit between the five boys.
There was a lot of learning that needed to take place, the most important being the car wash is a business and not a hobby.  It can't be neglected or ignored and continue to operate profitably.  It takes a team of people, working in concert to keep it running at top efficiency. This core group of boys has made the commitment, put in the work, and the BGHNC carwash is operating at a high level.  Since taking over the carwash revenues have continued to climb.  A clean, orderly, fully functioning carwash is attracting more and more customers.
If you use Boys and Girls Homes carwash, please take time to appreciate the effort by our team of young men to provide the community with a valuable business that is clean and serviceable. Each one takes pride in learning the business and continuing to improve the facility.  Also note that your dollars are directly providing our boys with funds for today and a brighter future in business down the road.
Mike Garrell is the Chief Operation Officer at Boys and Girls Homes of North Carolina.