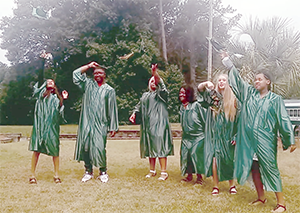 This past weekend several Thomas Academy students walked across a stage to receive their high school diplomas. The walk signifies a journey the students began many years ago that stretched at least 13 years, sometimes longer. Along the way, many faced various obstacles, circumstances, or trials that could have brought their path to success to a grinding halt. Each Thomas Academy graduate has a long, descriptive story of their way to coming to the school and now graduating. It is important to finish what you start. One story of a young man embodies this message. His story started long before I came to Thomas Academy.
We just finished our parent orientation in the gym. I didn't know what kind of turnout to expect since many parents were still worried about COVID-19 exposures. I was pleased with the turnout and walked outside at the end of the session. A mother was waiting for me outside. After I greeted her, she said her son wanted to talk with me. A young man then approached me. I had to move closer because he was soft-spoken. He told me he wanted to graduate. He mentioned he had been to different schools, including Thomas Academy, but had not been successful. He felt like this was his last chance to finish. I looked him in the eye and told him to make me a promise. I told him to promise he would give his all to accomplish his goal. I told him to promise it to me, and more importantly himself. I told him if he keeps his promise, I am sure he can accomplish his goal. I shook his hand and told him I'd see him Monday. He looked at me, almost in amazement. As I walked away, he asked me, "Is that it?" I replied, "The work begins now."
Whenever I see him throughout the year, I would say, "Remember your promise." Accomplishing his goal required a lot of time, effort, and assistance from others, especially his teachers. However, the result was worth it and paid off. So, when he walked across the stage, wearing his cap and gown, as I shook his hand, I said softly, "Promise kept."
George Ward III is the Chief Academic Officer and Principal at Thomas Academy.