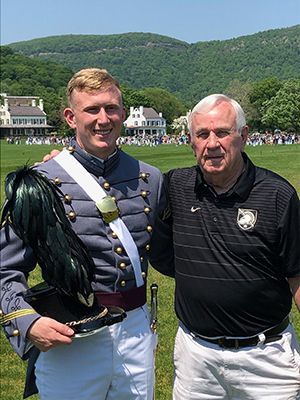 On May 27, 2021, Holt Daniel Parrish of Raleigh graduated from the United States Military Academy at West Point, Commissioning as a Second Lieutenant as an Engineers Officer.
Among those celebrating this accomplishment was Holt's grandfather Jerry Parrish. For him, this celebration went beyond the incredible achievements of his grandson. It was a celebration of the continued confirmation that the cycle of abuse and neglect he experienced in his youth has been fully broken for a second generation.
You see, Jerry came to Lake Waccamaw decades ago to stay at what was then Boys Home, now known as Boys and Girls Homes of North Carolina. The experience during his years on the campus transformed his life. He had a home, with regular meals and caring adults to help guide him. He received an education that allowed him to graduate from Hallsboro High School at the same time that he graduated from BGHNC. He married his wife and fellow Hallsboro High graduate Faye High. Together they journeyed through life, creating their own supportive family experience that often included visits with Jerry's brothers from his years at BGHNC.
"I wouldn't be who I am without my time at BGHNC," Jerry said. "It changed my life and changed my family."
So as Jerry joined Faye, their son Wayne and his wife Carolyn in celebrating Holt, he thought about his BGHNC family. He excitedly passed on the information of his grandson's accomplishments and future plans, including his upcoming time at Fort Leonard Wood, Missouri for an additional six months of Basic Officers Leadership Training before reporting to his First Duty Station at Fort Campbell Kentucky with the 101st Airborne Division, 3rd Brigade Combat Team.
As Holt takes these next steps in his life's journey, his proud grandfather knows that the strong foundation for this success was poured out many years ago at Boys and Girls Homes. He can see the generational successes building an even stronger Parrish family far into the future.
Melissa Hopkins is the Public Relations and Marketing Specialist at Boys and Girls Homes of North Carolina.