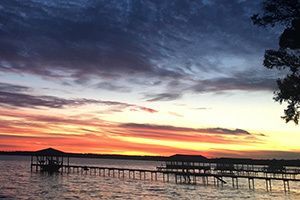 "Greetings from beautiful Lake Waccamaw, where the birds are chirping, the gators are grunting, and the children are laughing!" With those words I begin every Boys and Girls Homes presentation for club meetings, Zooms, conventions, and churches. It is a tagline that says much about who we are as an organization. Each word evokes meaning and feeling that sets a mental mood and tells a word story.
Greetings: The word greetings says "You matter to us, and it is a joy to share this space and time with you." Indeed, I count it as a sacred blessing and a privilege to speak to audiences on behalf of all of the families and children within our BGHNC care! What an honor to bring greetings in the name of something so precious. Furthermore, greeting is something of our business. Whether we are welcoming visitors and guests for tours, or welcoming children into their new homes on campus or with foster families, we greet each person with dignity, love, and hospitality.
Beautiful: Lake Waccamaw is no typical village!  While the word does not do it justice, beautiful seeks to convey something of the awe, grandeur, and natural glory of the place where BGHNC is located. There are few corners of creation more beautiful than our campus here at the lake. From the sprawling trees of the campus wide pecan orchard, to the subtle appointments of flowers, shrubs, and statuaries sprinkled in shady spots of lawn that are just perfect places to "sit a spell," our grounds are a place of peace and tranquility.
The birds are chirping, the gators are grunting: Wildlife is everywhere in Lake Waccmaw. Eagles nest high in the cypress trees and cardinals sing their songs from the many crape myrtles. Fish, otters, ducks, turtles, and squirrels put on comic and playful shows every day. It's free entertainment! And yes, gators are here as well. Our kids often enjoy rides along the canal towards the dam in the spring and summer, where the reptiles can be counted into the twenties on a cloudless day. Most of our animals, however, are domesticated. There is a lazy old cat on the porch of Community Based Services, and many horses call our farm home, providing equine therapy to hurting children. We even have two highly trained therapy dogs who also bring comfort and healing with each timely encounter. Yes, the animals certainly do their part in providing care.
The children are laughing: This is what everything is really all about--laughter. Psalm 126:5-6 states, "May those who sow in tears reap with shouts of joy. Those who go out weeping… shall come home with shouts of joy…." Our children do not come into our care laughing. Rather, they often come in tears. Sometimes these tears are visible upon the checks. Other times the sorrow may be deeply guarded within, hidden behind a façade of quiet strength. Yet, all precious children entering BGHNC care come with sorrow and woe. They don't "want" to be here, and they never wanted the trauma and abuse that was heaped upon them before coming to our campus or foster homes. Yet, through our warm greeting, the beauty of the campus, the wonder of our animals, and, most of all, the loving and highly trained staff who provide trauma informed therapeutic care, we see hearts healed time and time again. Once a child is with BGHNC, it is only a matter of time before the tears are turned to laughter.
If you'd like to hear Dr. Mason Fuller Smith issue this greeting live and in person, contact him today about speaking to your club, church, or organization: email: mason.smith@bghnc.org; Phone: 910-646-2241
Dr. Mason Fuller Smith is the Director of Community Engagement for Boys and Girls Homes of North Carolina.