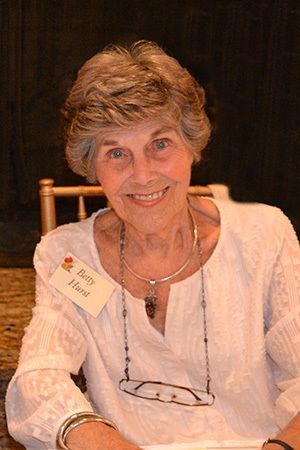 I remember walking into my first Pinehurst Ladies Luncheon as an employee of Boys and Girls Homes of North Carolina. I was nervous, but the woman at the registration table quickly greeted me with a room brightening smile. She was so kind and reassuring and I learned that her name was Betty Hurst. At that same event, she was honored for being one of the honorary grandparents of the children served by BGHNC due to her financial and volunteer contributions.
Betty's sweet smile was shining again the following year for the event, which was soon rebranded as the Sandhills Benefit Luncheon for Boys and Girls Homes. She remained a truly active and engaged volunteer, doing whatever was necessary to help the event continue and grow through various versions. It was clear that the comfort she provided me at my first event was something she was known for in the community.
Sadly, Betty and her husband Thomas passed away at the beginning of 2021, both having reached the age of 94. It was during their memorial service months after their passing that I learned just how committed the couple were to having an impact on making the world a better place. Betty was honored with the 2014 Governor's Volunteer Service Award and the Moore County Volunteer of the Year in 2001. As was shared during the service by her son, the awards were appreciated, but were not something that Betty shared with others.
As a small group of BGHNC associates gathered during the memorial reception, an active discussion took place about how we could best honor the memory of this amazing woman. We were inspired by Betty's commitment to making sure that BGHNC was known in the Moore County community so that the children would receive the best levels of care possible. To honor her legacy, we brainstormed a variety of ways to revive the events that were lost to the Coronavirus shut downs. We came up with some completely different events and ideas that I believe would have brought that smile to Betty's face. While the details are still coming together, I am excited that the 2022 events in Moore County to support the children and families of BGHNC will honor the memory and legacy of Betty Hurst.
Melissa Hopkins is the Public Relations & Marketing Specialist for Boys and Girls Homes of North Carolina.