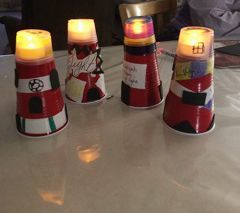 I love making things with my hands. When I was a little girl, my sisters and I would watch our mother sew, and we decided we could make stuffed animals out of some of her extra fabric and some fake fur material she splurged on for us to be able to make teddy bears. Then, with our wagon attached to one of our bicycles we would ride through the neighborhood trying to sell our creations for a little ice cream money. We didn't become rich in our endeavor, but we did learn that being creative was an important part of being a child…and for that matter, an important part of being a human created in God's image as creator.
I still love crafts. I learned to bind books when I was in seminary, and it thrills me to put a torn book back together to make it useful again. I love making things with beads, creating special home-made cards, and have even participated in a few pottery and painting classes.
And in my 30 plus years of leading spiritual formation for adults in a church setting, I would often incorporate crafts into our lessons - like making prayer flags, prayer beads and even just drawing to open our creative brains.

So, when I agreed to serve as Coordinator of Spiritual Formation at BGHNC, I already knew how valuable "crafting" can be to enhance a discussion about faith and all aspects of our spiritual lives.
In a recent Bible Study with the boys and girls at BGHNC, we talked about the scripture passage from John's gospel when Jesus said "I am the light of the world. Whoever follows me will never walk in darkness but will have the light of life." It isn't too hard for most of us to get the fact that Jesus brought light to a dark world, but we sometimes stop with that understanding. But the scripture also quotes Jesus as saying to his followers: "You are the light of the world. A city built on a hill cannot be hid. No one after lighting a lamp puts it under the bushel basket, but on the lamp stand, and it gives light to all in the house. In the same way, let your light shine before others, so that they may see your good works and give glory to your Father in heaven."
Our craft for the day was making lighthouses - with simple supplies like a red solo cup, a clear cup, and a battery tea light. When the boys and girls finished their lighthouses and turned on their lights, we talked about the reason a lighthouse is so important to the ships that pass in the night. And I think they really got it…..and hopefully down the road they will all remember that just like the lighthouse, we can shine light into the lives of other people who desperately need to find a safe harbor.
Jennie Weeks is the Spiritual Formations Coordinator, Human Rights Specialist and Volunteer at Boys and Girls Homes of North Carolina.