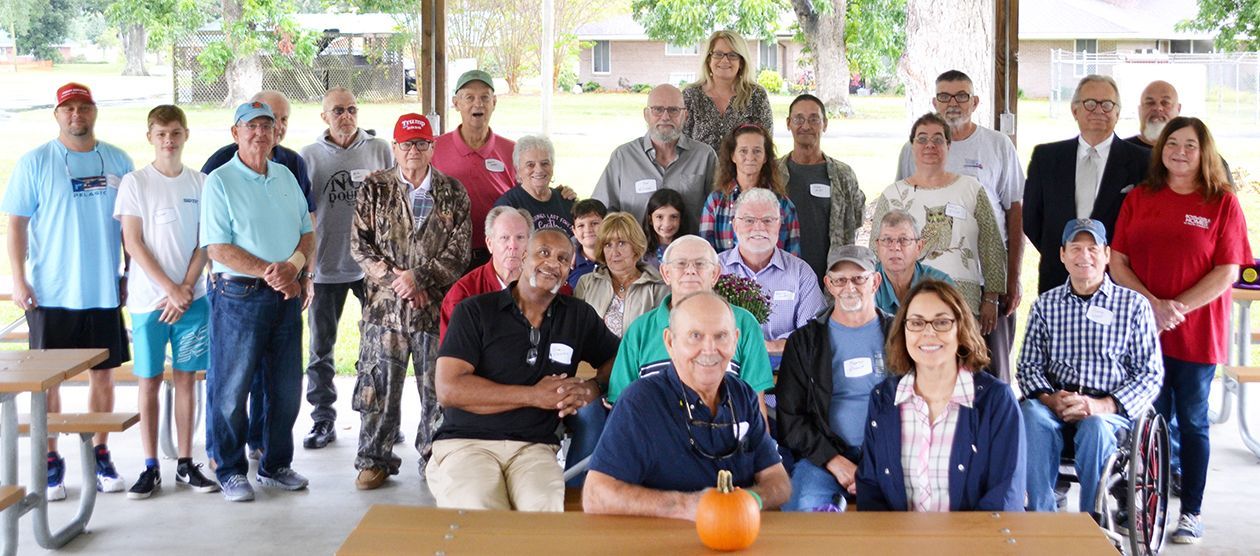 "I want to welcome everyone back to campus, welcome back home."
These were the words of welcome Boys and Girls Homes of North Carolina Alumni Association President Garry Elliott used to open the 2021 BGHNC Alumni Day festivities on Oct. 9 at the Gary Jones Memorial Outdoor Kitchen and Pavilion.
"One of the things that drew me to Boys and Girls Homes is the legacy that you have, the active alumni that are still connected," said BGHNC President/CEO Ricky Creech. "I talked with some of the alumni prior to the event who couldn't attend and I spoke to a number of alumni who made it back to campus. I heard some of their stories and I hope some of our kids that come through now will have the same kinds of success stories. Alumni are part of the reason that we are here, and still here. I want to thank them for the great organization that they've built and continue to support."
Creech expressed that gratitude by serving as the event chef, preparing a variety of ribs on the pavilion grill for the lunch meal provided to those in attendance.
Three former BGHNC staff members were recognized with "A Difference Maker Awards" for the difference they made in the lives of youth served by the organization.
"This year, we honored Leon Dudley, Henry Sadler and Bill Morrison," Elliott announced.
Former BGHNC President Bill Thompson shared his reflections on each of the three recipients.
"Bill Morrison was there for a lot of kids for a long time," Thompson said. "And particularly for those who decided to go off to college. He was the man back home. He was the one who kept up with you and when you said I need a little money or if they were having some problems at school, they could call Bill. That was really important.
"Leon cared for the grounds here for so many years, and I guess where he made the difference though was not sitting on the lawn mower, but working with the kids," said Thompson. "So many of you, so many of us, knew him because we worked with him. He did a lot of counseling when they were cleaning ditches, mowing yards or trimming shrubs."
While Morrison and Dudley were unable to attend the festivities, Sadler was front and center to hear Thompson's recollections and receive his award.
"Henry and I came here at the same time," Thompson recalled. "We had both just gotten out of college and he was the campus director. He had a lot of interaction, direct contact with the residents. He talked to them about whatever was on their minds and sometimes he agreed with them and said everything would be alright. And sometimes it would just be to straighten them out and say, you have to get your act together. He was both a disciplinarian and a counselor. And I think that made a lot of difference in a lot of lives."
The event also included the presentation of some less serious awards known as alumni superlatives. These awards were presented by Marie Kelly and Jasmine Patrick with the selections made by informal vote in categories ranging from most hair to life of the party to most athletic.
"This was just a fun way to get the group energized and engaged for the day," said Kelly, who has worked for BGHNC for more than 40 years and has gotten to know many of the alumni through the years.
BGHNC Alumnus Ken Blackwell presented checks to the organization to honor the memory of two former residents.
"A couple years ago I started a fund for two of our former Boys Home boys," Blackwell said. "I've encouraged others to do the same in honor of their friends."
Blackwell also took a moment to share a story from his BGHNC experience that reflects his feelings about the organization's transformative mission. He had been asked by then President Rube McCray to speak to a group of civic club members about the Homes.
"I told them what my life was like before I came to Boys Home, and I told them what my life was like after I came to Boys Home," Blackwell said. "And I won't go into any of that, but I told them the story and I told them the truth. The last thing I told them was that whatever I am today, whatever I will become in my life, is because of gentlemen like you, period.
"That's what I feel about the old Boys Home and the new Boys and Girls Homes. It is because of the people that supported this place that makes us what we are and who we are. We wouldn't be here without their support."
About Boys and Girls Homes of North Carolina
Boys and Girls Homes of North Carolina, Inc., has been helping children since 1954. Since then, more than 7,500 children have benefitted from the services of the not-for-profit, 501(c)3 agency. Its mission is to provide a comprehensive array of services for children and youth who have been removed from their homes due to abuse, neglect or other family dysfunction. BGHNC offers adoption, family and therapeutic foster care, free children's therapy, as well as residential care on the campus at Lake Waccamaw. The campus features a SACS-accredited school with a middle and high school curriculum, vocational education, recreation facilities, farm, chapel and cottage life. As many as 320 children are cared for through the residential, community-based services, and school program provided by BGHNC at any given time. BGHNC operates its program, services and activities in compliance with federal nondiscrimination laws. BGHNC is nationally accredited by the Council on Accreditation.