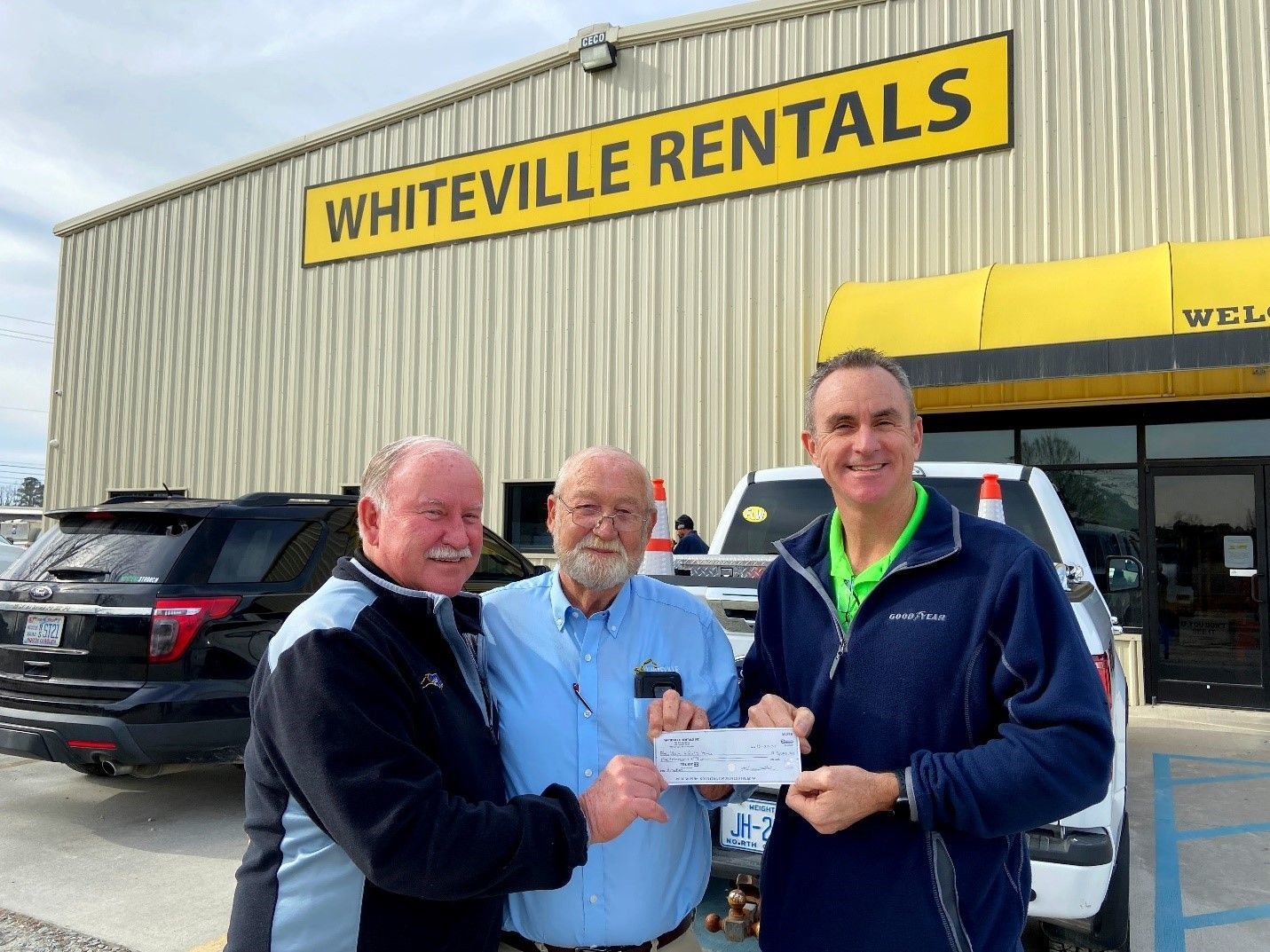 Whiteville, NC – "We have great love for the children of our Black's Tire Family, and we want to do our part to help all children receive the support, care, and love they need to reach their potential."
This statement by Black's Tire & Auto Service's Ricky Benton is an indication of the passion he has for children, especially those served by Boys and Girls Homes of North Carolina.
A longtime supporter of the nonprofit organization that supports children, youth and families in crisis or at-risk, Benton makes opportunities to share about the work of BGHNC. This includes holding an annual charity golf tournament to support the organization.
Ken Thomas, owner of Whiteville Rentals, is one of the friends and business associates who has been inspired to give to the nonprofit.
On a recent day in Whiteville, Thomas presented a check for $5,000 to support the children to BGHNC Board Member Rick Benton II in front of the Whiteville Rentals location at 344 Vinson Blvd.
"I am pleased to receive this donation on behalf of Boys and Girls Homes," said Benton II. "Ken and Whiteville Rentals have been frequent supporters of BGHNC and this gift is their largest single donation. We're trying to play Santa and help raise funds for the support of the kids!"
Thomas said, "Whiteville Rentals has been blessed while serving the rental equipment needs of the area, and especially from our current location just across the street from Black's Tire headquarters. The children of BGHNC may have struggled hardest, especially during the pandemic, and we are pleased to share some of our blessings to help them through their difficulties." 
BGHNC President/CEO Ricky Creech expressed his appreciation for the support.
"I am truly grateful for the support of Ricky and Rick Benton II, including their fundraising efforts like the annual golf tournament," Creech said. "Their efforts have helped inspire the generosity of Whiteville Rentals' Ken Thomas, who has become a significant donor to the organization. This support helps provide an environment of care where health, healing and hope are possible. A child can be saved and put on the path where they can have a positive impact in the community themselves."                                                                                                            
About Boys and Girls Homes of North Carolina
Boys and Girls Homes of North Carolina, Inc., has been helping children since 1954. Since then, more than 7,500 children have benefitted from the services of the not-for-profit, 501(c)3 agency. Its mission is to provide a comprehensive array of services for children and youth who have been removed from their homes due to abuse, neglect or other family dysfunction. BGHNC offers adoption, family and therapeutic foster care, free children's therapy, as well as residential care on the campus at Lake Waccamaw. The campus features a SACS-accredited school with a middle and high school curriculum, vocational education, recreation facilities, farm, chapel and cottage life. As many as 320 children are cared for through the residential, community-based services, and school program provided by BGHNC at any given time. BGHNC operates its program, services and activities in compliance with federal nondiscrimination laws. BGHNC is nationally accredited by the Council on Accreditation.