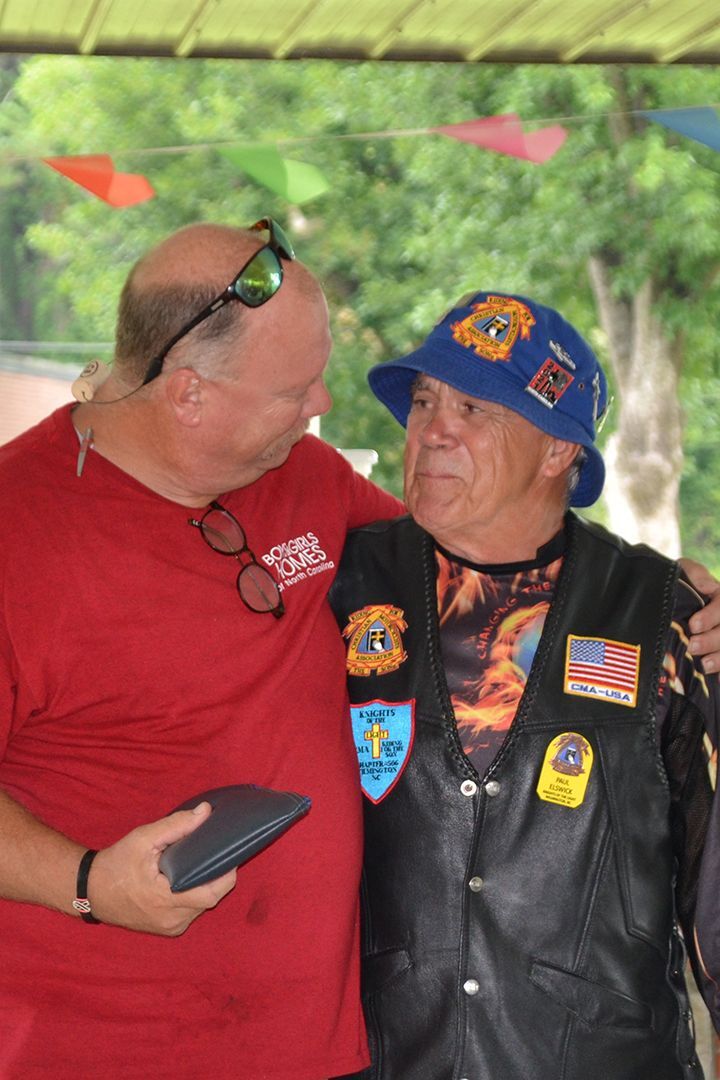 Lake Waccamaw, NC – More than 45 motorcycle enthusiasts made the 42-mile open ride from Pirateship Powersports in Wilmington to the Boys and Girls Homes of North Carolina Lake Waccamaw campus on Saturday, July 9 as part of the inaugural Wilmington Optimist Benefit Ride for the nonprofit organization.
"We are so excited to have you here today," BGHNC Chief Mission Officer Ray Cockrell said in his welcoming remarks. "You aren't just out for a ride on this beautiful day, you're making a difference right here for the youth we work with every day. I hope you all have an opportunity to chat with the youth and enjoy fellowship together."
The special event, supported largely by riders from the Christian Motorcyclists Association (CMA) Chapter 506 and Morehead Sling Shot Riders, raised $1,511.50 for the organization dedicated to providing a continuum of care to meet the physical, emotional, mental, behavioral, social, educational, and spiritual needs of children, youth, and families in distress or at-risk.
"This is what the ride was all about, to help the Boys and Girls Homes," said CMA's Paul Elswick. "We had a beautiful day for a ride. It was supposed to be raining like crazy today, but you see what God can do."
The event also included a 50/50 raffle, door prizes and a youth judged favorite ride contest.
"It is because of the support we receive from events like this, in addition to the support of individuals and civic organizations, that allows us to provide an environment of care that promotes health, healing, and hope," said BGHNC President/CEO Ricky Creech. "We look forward to next year's event and the growing relationship with CMA."
About the Christian Motorcyclist Association
The Christian Motorcyclist Association is a non-profit, interdenominational Christian organization, dedicated to reaching people for Christ in the highways and byways through motorcycling. CMA is not a Christian club or riding group designed to segregate Christians from the influences of the world, but rather is a ministry designed to thrust you into the mission of spreading the light of Jesus into the darkest areas. To learn more, visit www.cmausa.org.
About Boys and Girls Homes of North Carolina
Boys and Girls Homes of North Carolina, Inc., has been helping children since 1954. Since then, more than 7,500 children have benefitted from the services of the not-for-profit, 501(c)3 agency. Its mission is to provide a comprehensive array of services for children and youth who have been removed from their homes due to abuse, neglect or other family dysfunction. BGHNC offers adoption, family and therapeutic foster care, Success Coach services to prevent children from coming into foster care, and free children's therapy, as well as residential care on the campus at Lake Waccamaw. The campus features a SACS-accredited school with a middle and high school curriculum, vocational education, recreation facilities, farm, chapel and cottage life. As many as 320 children are cared for through the residential, community-based services, and school program provided by BGHNC at any given time. BGHNC operates its program, services and activities in compliance with federal nondiscrimination laws. BGHNC is nationally accredited by the Council on Accreditation.