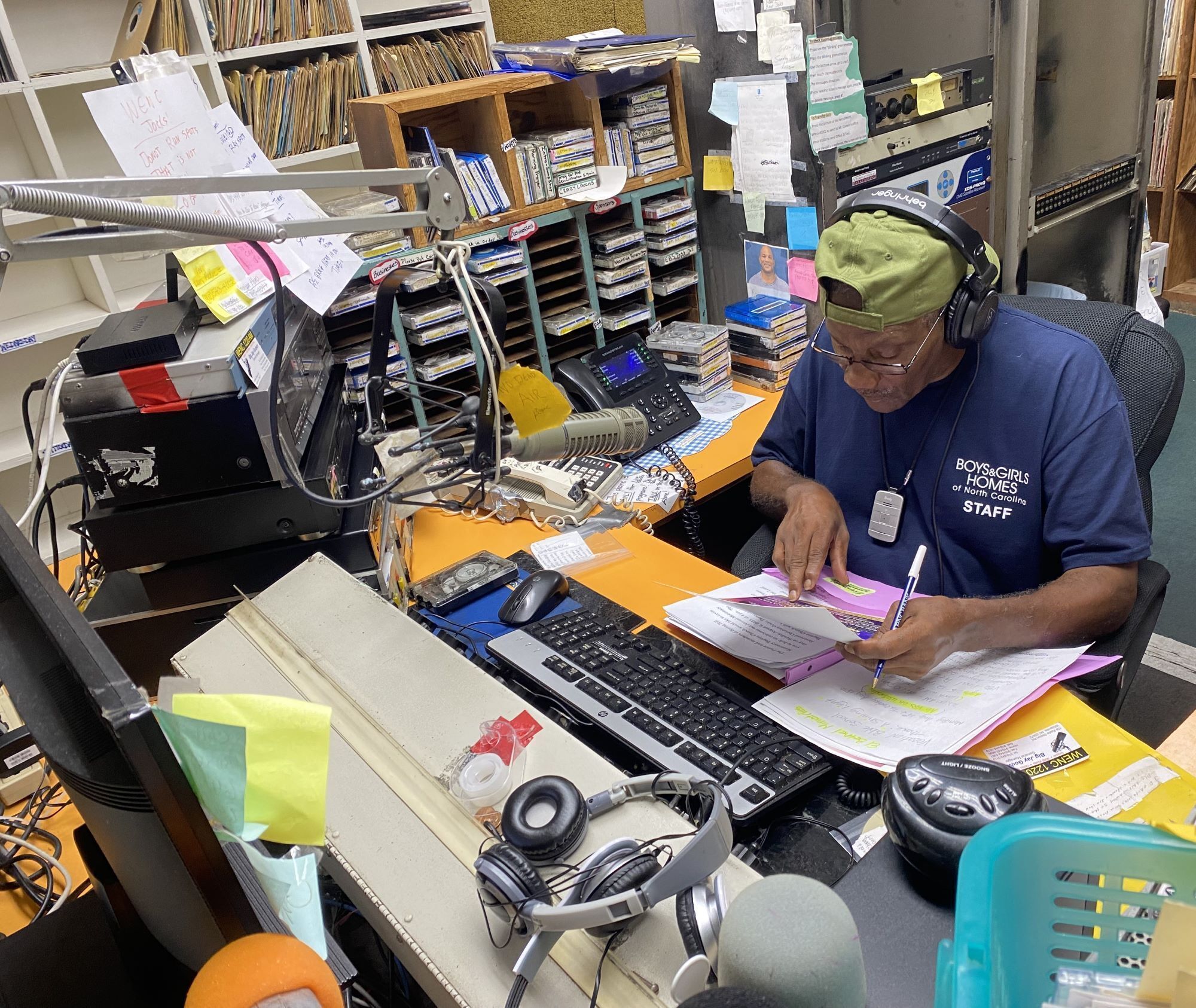 On a sizzling hot early August Saturday, John Lee was keeping cool at WENC Power1220AM in Whiteville, adding his own flair to a lengthy list of Columbus County church and community announcements during his weekly radio show of soul and gospel music, The Lee Train. At Boys & Girls Homes for the last four years, we've known him as Mr. Lee, our janitorial supervisor. But on the weekends, he's a radio man.
"On Aug. 19, at 12 noon the Cromartie Hill AME Zion Church located in Clarkton is inviting everyone to a Community Day. I think that's so good," he said with a chuckle. Mr. Lee is one of the DJs at WENC, owned by Ethel and James "Big J" Godwin of Godwin Communications.
Records and CDs are stacked in white cubbies. The walls are soundproofed with brown shag carpet. Mr. Lee has piles of small records, tucked into yellowing 16-inch jackets. No one is allowed to touch these records except Mr. Lee. That's the first rule of The Lee Train.
Over the station's crackling speakers, Isaac Hayes soulfully croons: "I stand accused of loving you too much and I hope it's not a crime." After the Hayes song ends, Mr. Lee runs an ad for forever stamps and the U.S. Post Office.
"I don't let anyone touch my music because, you know, I have music no one has anymore," he said, juggling two ringing phones of listener questions during the break. Stacks of 8-track cartridges labeled "Morning prayers," "Intro Swap Shop" and "Crazy Laughs" line shelves to the right of his microphone.
Mr. Lee has worked in radio part-time or full-time airing The Lee Train since the late 1960s either at stations in the Washington, D.C.-area or in Whiteville. "This is something I enjoy, and everybody that know Mr. Lee, they know I put my all into what I do because that's what my mom taught me," he said.
As Sam Cook sings: "Bring it to me, bring your sweet loving, bring it on home to me," Mr. Lee lines up his next track from The Marvelettes and one from Isaac Hayes.
"It's the songs you forgot about. I've got the songs that when you were going with that guy, he asked you for a date," Mr. Lee said. "I've got the songs that people want to hear."
Hear The Lee Train on WENC 1-5 p.m. Saturdays and noon-6 p.m. Sundays.