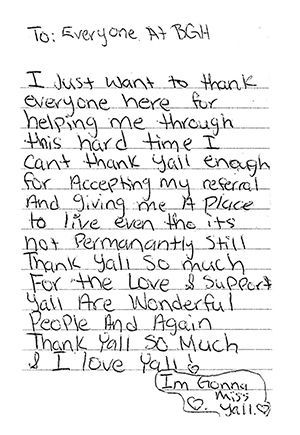 Change is hard for everyone, but especially for the youth we serve. With the full implementation of the "Waccamaw Way", we have seen a dramatic increase in grievances, which is the formal process that our youth can use to address their complaints or concerns. In the last two months, we have had 18 grievances. While that may not sound like a lot, we had one in the six months previous. The Human Rights Specialist and I meet to discuss the content of each grievance and brainstorm possible resolutions and then she meets with the youth to hear their grievance and come up with solutions.
Recently, one of the youth in our Emergency Shelter (The Harbor at the Lake), told the staff that she had placed something in the grievance box and wanted to make sure it was collected. Usually that indicates there is an issue that he or she wants addressed right away. The Human Rights Specialist went to retrieve it, and this is what she found:
To: Everyone at BGH
I just want to thank
everyone here for
helping me through
this hard time I
can't thank yall enough
for accepting my referral
and giving me a place
to live even tho its
not permanently still
thank yall so much
for the love & support
yall are wonderful
people and again
thank yall so much
& I love yall!
Im Gonna Miss Yall.
We were speechless; instead of using the grievance box to complain about something, this youth wanted to make sure all staff were aware of how they impacted her and made her safe. All of the hard work and change that needed to take place so that we could be a better and safer organization is worth it. This "Gratitude Grievance" is proof. This is the outcome we are looking for – life transformation!
Needless to say, this made our day. We couldn't keep it to ourselves, so we made copies and shared them with the staff working directly with this youth hoping that it would make their day as well. Now we are sharing it with you, hoping that it brightens your day too!
We need more "grievances" like this!
John Cobb is the Risk Management and Compliance Specialist at Boys and Girls Homes of North Carolina.